◇ Worshiped deity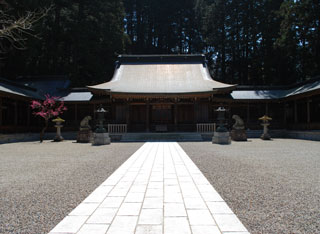 Hida Ichinomiya Minashi shrine, is enshrined gods of fourteen poster outside to the chief god "Mitosinookami)" as Minashi God.
The name of Minashi God is described prestige that was compiled during the Heian era medium-term to "Engishiki", has received a cordial faith up to the present as pine sect of Hida country is referred to as a Ichinomiya Hida country.  
It is the meaning of "(God responsible for the source of a river) Mizushi", Minashi of the company name that you have read the "deemed" or (MizuNaru), also referred to as "Mizunashi" is read aloud as "Suimu" commonly theories I is also.
In addition, since the riverbed of Miyagawa flowing through the shrine before rises, it becomes Minashi flow and subsoil, and became a place name Minashi River, Minase Riverside , such as demon Riverside (Kutsugae Riverside ).
◇ Divine virtues
In God was promoted the stability of the consumer to encourage industry responsible for the harvest and fruitful to sit in watershed to divide the front and back Japan, and calm transportation hub and water sources as a "work God", Mino, Mizunashi God, Shinano, spin-off has been enshrined in well connected areas such as the wide range of Etchu.
And soliciting your divine virtues, many people are worshipers to have a variety of object of an application good luck good luck charm, traffic safety, family security, business prosperity, agricultural peace, academic accomplishment, love accomplishment, good match, easy delivery, Hatsumiyamoude, and bestowed upon the child.

BUILT STRUCTURE
◇Inahamishinme(Kurokoma)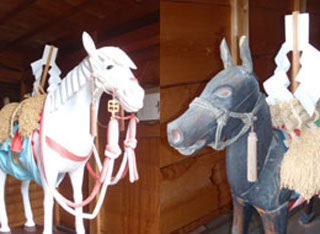 The author has been handed down work of master craftsman "left Jingoro" unknown, from ancient times.
You will be told where the villagers was drawn eyes of Kurokoma vandalism crops and left the stables every night to once upon a time, as ate the rice in the days of harvest, devastation the arable land since has ceased.
I is said of God Ma 此's extremely simple to make, but the dismantling and extremely difficult.

◇shinme of Kise(hakku)

The author is with Takeda Mantakumi of Artificer of Hida in Kurokoma originally. Oike chief priest was replaced paint to color the hair and tail is called a black Kawahara hair in white body in 1882. I is said inscription of Takeda and was in the belly at that time.
There are enforcing the old precedent Inohare-sai to align to pull together with Kurokoma altar of daily rainfall, the annual festival of Inohare festival every year before as God Ma of sunny prayer ancient times.
The festival was held in 1903, Kyokin horse trader crowd of one yen Hida and (Kyokin), instead of painted black horse again, and makeup Shirotsuki hair of current as a memorial of your tome of Emperor Taisho and then it is said to be, stand wheel also turned out to be worthy of the metal fittings.
Faith of cattle and horses all excited extremely safe as God Ma Ichinomiya is God Ma of these, and awards in the Kami-satsu wooden plaque, etc..

◇Lore of shinme
"

Inanakishinme"


Sound

of

hoof

and

neigh

of

the horse

, so

hear

from

the company

in the middle of the night

,

often

there was

that this

is

God Ma

are

thrown out

in

the hall of worship

to

hear

and

how

.


It is said that

rumors

have passed

this

that he

becomes

your

play

every night

God

riding a

God Ma

,

the name of "

Inanakishinme

" is

attached

.



"

Inahamishinme"


There are

horse

eating

the

rice

fields

of

nightly

Kanda

early

Edo period

,

the

Bamba

guide

.


And

started to run

to be

following along

the horse

because the

black horse

similar to

the shrine

, the figure

was

about to disappear

and

go

to

the barn

of

Bamba

.


And

I have

stuck

in the form of

relief

to the

wooden door

of the

ken

of the

door

there

.

It is

said to be

considered as the

mischief

of

God Ma

,

this was

hollowed out

eye

.


It is said that

the

door panel

is

dedicated to

the worship hall

, and

has been

listed

hall of worship

until

the Meiji

Hagyaku

first year

.
◇Emaden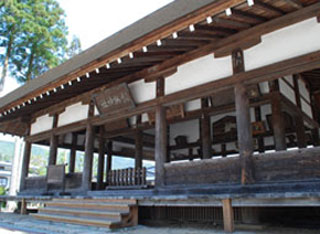 It is that it was built by Kanamori Nagachika Keicho of 12 (1607) Takayama castle building in the bill. When peasant uprising seven years Anei of (1778) of "Ohara turmoil", the priest is absent been executed Yamashita Izumi of Shinto priest, both the name of the forest Ise as complicit to farmers, and Kajiwara Izu Mori-kano Shinto priest from Shinshu was invited.
Kajiwara Izu Mori-kakuma we promoted and only changed its Shinto Shinto-Buddhist amalgamation of conventional, Hagyaku the main shrine and statue of Buddha, Buddhist, relocation, renovation, but the worship hall has escaped demolition.
Welcoming the Meiji era soon, Miyahara product alpine Governor gave a the building of the main shrine solicit Kyokin the from Hida country, but unbalance when it is unified to Jinmei building instead of the gambrel-building traditional demolition has been carried out since it has been.
The store building materials generous this, recruited Jozai asked permission the hall of worship revival Meiji of 12(1878), parishioners who have been restored to its original position.
Then, for the precinct expansion, we are currently led to the relocation of salmon mark once in (Yamamoto homestead) showa of 29 (1954).
◇ Ohara Furor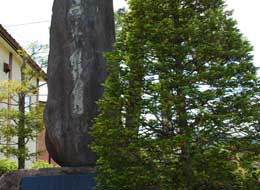 To involve

the

Hida

one yen

,

was also a

farmer

sad story

is a

major

peasant revolt

that remains in

modern Japanese

history

Ohara

uproar

.


This

shrine

has become

the land of

the end

of

this

uprising

becomes a

large

meeting place

at the end of the

farmers

,

I have

sacrificed

a great deal of

digging

by

Shinto priest

in company

headed

to

the

crush

.
◇Oharagundaihushikishinishidoro
Ohara

Hikoshiro

of

the magistrate

was

put down

(

peasant uprising)

Yasunaga

uproar

was promoted

to

blowing

Gundai

by

its

achievement

.


But

victims

many farmers

or

made ​​a

violent death

in the

riot

suppression

,

etc.

become

distant island

exile

,

write a

resentment

of

farmers

suffering from

heavy taxes

by the parent

land surveying

,

a

life

of

misery

and

suffering from

eye disease

himself

then

spent

.


He spent

the

days where we

cling

to

the gods

,

was

donated

lanterns

pair

eight years

in

Yasunaga

(

1779)

will remain in the

later years

now

.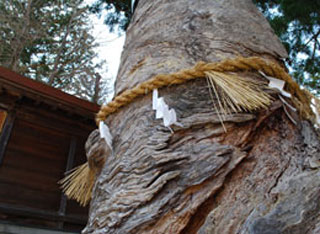 There is a great flood in the mid Edo period, Medium Bridge Basin Miyagawa is washed away, extensive damage houses and storehouses and flows through many occurred.
It becomes Motoki Yasumiyama in Hida in that year, it was decided that the land reform is carried out in the following year is Bakumei.
In Ohara uproar was standing in opposition to it, switching between the Medium Bridge is delayed for that, Ohashi bridge railing baluster finial is now available from the bridge railing of conventional Anei of 5 finally.
In making this work, Ohara Hikoshiro of magistrate was ordered to hold out as bridge material large cypress Ichinomiya to Miyamura, but the villagers who were victims of many Ohara uproar was reluctant holdout obediently.
Where hear who tact indicates the tree of the screw in the parishioners, was multiple names to be "I have twisted one night in providence showed that tries to cut off the tree", it is not shut off cypress other shrine affair it was a darkness.
Wood screw this I have withered after that, in Dead tree of cypress five feet extra Medori one length wrapped around the wisteria, and then save and keep the withered thing with a tree in a gratuitous, and Showa until the early Showa I have been moved to its current location by the transfer of emaden '29.
Wood screw this is twisted to the left up in cypress, or the effects of sunlight, either twisted for that you are put branches in the path of the special wind, division of cells may occur unilaterally internally for the cause it is said that it could.
As a sacred tree dwelling of the Holy Spirit, faith of the lady all excited extremely particular, there is a legend young child who places a gun in this tree, and were asked to seal the mean of the old mother-in-law from the villager.
FESTIVAL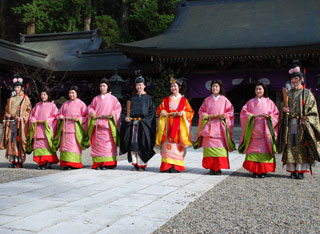 Hida slow coming of spring will celebrate the "Doll Festival" of late month.
This festival, pray for the promotion of local agriculture and sericulture Hojyo, which has been a annual event of sericulture industry farmers twice sericulture industry festival of spring and autumn is carried out in the region in 1952, sericulture industry is booming originally it started in order to sericulture festival of spring, which, adopted the Doll Festival, which is performed with a delay month for cold climates, to pray for happiness and dignity of women, which is symbolized by the silk.
In addition, it is said to be inspired and have tried to heap up the shrine and faith that the new constitution of post-war shrine leaves the under state control, was faced with the management of standing on its own as one of the religious corporation, and promotion of the shrine, so to speak for sericulture industry has fallen into disuse in recent years, changing the name as "silk farming Hosan meeting" was organized by the festival also "sericulture industry Hosan meeting", this festival, which began for the promotion of silk industry, agriculture cooperatives but as gorgeous festival to pray for the happiness of women and fertility General agriculture to boost, to attract a lot of people every year.
While Gagaku is played, minister of the left, minister of the right, imperial palace, matrix, after the nine women who were chosen and priestess, was to hand minstrel that whiffler the Aooni and red demon, play gagaku, bronc, the Shuhai and Hishimochi , the rest by becoming a five court ladies, and proceed in the order that the people of Hosan Association then, festival matrix glittering reminiscent is, in about 40 minutes 900m bake until precincts from Omotesando of 100 people more than a total, the old days of peace the parade, in special stage, throwing rice cake with like Bina live is performed to pray and introduction of living like Bina, a good harvest of one year after the festival, dumpling and cocoon Hishimochi is served.
Even now water is life for agriculture (rice cultivation). The festival of Mizunashi shrine that Kanza the Kuraiyama is the source of water of this life, worshipers of many visits from such Toyama district that extends to the basin of Jinzu, we are bustling a very average year.

◇ Special events
Ancient August 15th lunar calendar, the annual festival of Ichinomiya Mizunashi shrine is the total patron saint of Hida people, was done on September 23 the Meiji era, however, it is Toriokonawa on May 2 from 1961 I am led to today become.
In its annual festival, a special act of God, such as the following is dedicated by the people of parishioners, (Doburoku) will be awarded to the general worshipers Sake brewed in our.
1、Tokeigaku(Torigeuchi)
The common name refers to as "Kankakokan", as the headwaters of the Company, is located in a special ritual performing art that is handed down to one yen Hida.

2、Jindai dance(Prefecture designated cultural property )
Origin is not clear in what our own. Or those turned of dengaku, Hida and music are universal praise.
Is not wearing a hakama haori, with diagonal band figure in black crested, dancers will dance in character shade white socks, sandals Kamiitoguchi, of the tube dress in men. And noblewoman shemale four adds.

3、shishimai(Ise Shin-raku)
It is

representative

of what is being

dedicated

in

Hida

around

.

◇Annual festival Ritual
Annual festival was held on August 15, but older than the lunar calendar, after the Meiji era had brought enforcement to September 25. There is also weather and relationships that at harvest of rice has become faster, I was changed to May 2 Shikinen festival since 1961 recently.
After the war shrine system has changed, but it has been enforced grand festival ritual is followed as it is.
New and old boss, etc. of each set parishioners gathered in the early morning than in Chateau Shiraku Festival to serve Miki and banners stand (Doburoku) and the like is open May 1, parishioners general representative is busy preparing for the decoration of shrines To other will be.
Festival of spin-off and En-sha Sessha subordinate shrine is done by the middle puja than 15:00.
This solemn easy Festival is performed there is a military police of the Association of Shinto Shrine two days, and then being in attendance on the mikoshi dignity of each set correctly Keigaku Hito-dai dance Kego rattan lion dance, after the shrines Hatsuko Festival Next. Parade matrix of up to one kilometer meandering more than four hundred people a total is opposite to Kaguraoka (Otabisho) across the Mizunashi cough.
Ichinomiya Bridge from can to the station before 1934, your Shinko can now cross this bridge through the approach from Shin-kyo Bridge.
Otabisho Festival is executive shrines is Chakugo to Otabisho, Shishimai Tokeigaku Jindai dance is dedication, Miki (Doburoku) will be awarded to the person being in attendance on general worship. Mikoshi is tired of the Applications Kangyo soon, tourist festival will be held on the main shrine your clothes. Dance music will be played in succession in the precinct at that time.
Done a courtesy greeting as the form in the temple service members all of us God disciple precinct ritual is completed without a hitch, I will dissolve all of us there is a greeting of the chief priest at the end.
Generations of male parishioners have inherited if there are old time-honored ritual of the festival is right, it has been guarded if there is a strict law up to the event Denshu magistrate greeting.
And it is with Gifu Prefecture designated intangible cultural asset as Hida Ichinomiya Shrine Minashi special ritual now.
ACCESS
◇ Address
5323ichinomiya-machi,takayama-city,gifu,509-3505,japan

---
◇ Arriving by train
○ Customers coming by express Wide View Hida


〈 Timetable of Takayama Station 〉
◇ If you are using Nohi bus
◇ If you are using Nohibus from JR Takayama Station
※ one-way bus fare from JR Takayama Station is only 250 yen.
◇ If you are using a local train from JR Takayama Station
※ The Hidaichinomiya JR Station, for the express train does not stop, there is a need to go back in the local train to JR Hidaichinomiya Station from JR Takayama Station.
※ The JR Hidaichinomiya between stations from JR Takayama Station, the number of air traffic train is small, please be sure to confirm the scheduled times.
---
○ Customers coming by local train


〈 Timetable of Hidaichinomiya Station 〉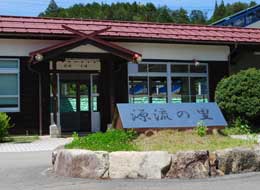 ※ The JR Hidaichinomiya between stations from JR Minoota Station, the number of air traffic train is small, please be sure to confirm the scheduled times.
---
◇ Arriving by Nohibus


〈 Timetable of Nohi bus 〉〈 Timetable of Takayama Station 〉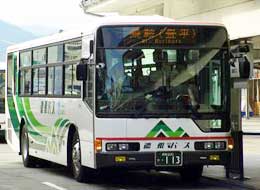 ※ one-way bus fare from JR Nagoya Station is 2980 yen.
※ It Advanced reservations are required for use. (All seats reserved)
CONTACT ⇒ 0577-32-1688 (Nohibus)
※ Nohibus JR Takayama Station (departure) Hida Ichinomiya bus stop (line) will be operated.
※ one-way bus fare from JR Takayama Station is only250 yen.
※ Because the high-speed bus of Nagoya Station (departure) does not stop at the bus stop Hida Ichinomiya, you must switch to Nohi shuttle bus bound Ichinomiya from JR Takayama Station.